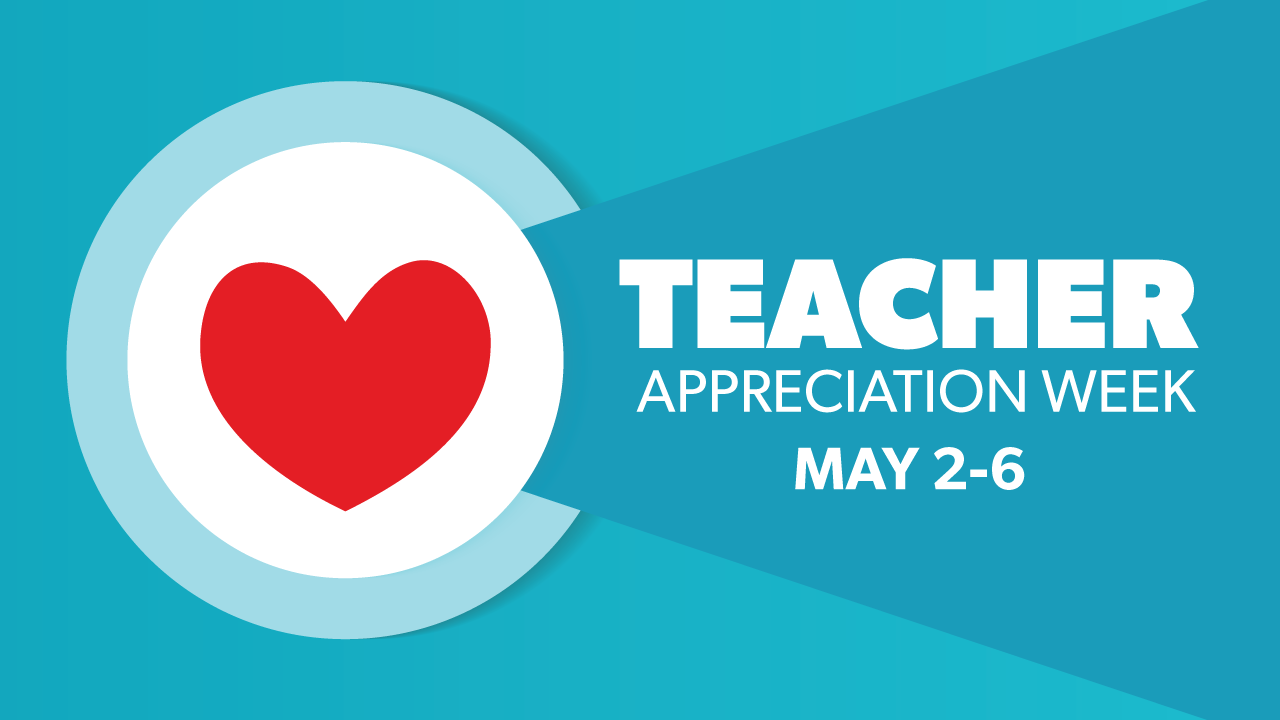 Teacher Appreciation Week
Our Summit families are the best!  We are so thankful for all of the great care and appreciation that you show to our teachers and staff each year.  Knowing that you are thinking about our faculty and praying for them means so much.  Every note, card, or small gift has an impact.  Thank you for being a loving and caring school family.
We are often asked to suggest favorite treats or snacks for our staff.  While gifts are never expected, we would like to provide this list to help those that have an interest in blessing a Summit staff member as we celebrate Teacher Appreciation Week.
Favorite Snacks: Jolly Time Healthy Pop 100 calorie mini bags
Favorite Candy: Ice Breakers, Ice Cubes Sugar free gum, Breath Savers
Favorite Beverage: Diet Pepsi
Favorite Shopping: Walmart, Target
Favorite Restaurants: Chick-Fil-A, Panera
Hobbies/Collectibles: Reading
Favorite Snacks: Popcorn, Pretzels
Favorite Candy: Dove Dark Chocolate with Almonds
Favorite Beverage: Coffee, Dr. Pepper
Favorite Shopping: Target, Amazon
Favorite Restaurants: Charleston's, Chuy's
Hobbies/Collectibles: Going to the movies, reading, OU
Favorite Snacks: Sweet Daddy Popcorn, Dark choc. pretzels
Favorite Candy: Junior Mints, Kit Kat 
Favorite Beverage: Coffee, Lemon Berry water 
Favorite Shopping: Ulta, Amazon 
Favorite Restaurants: Hideaway, Abuelos 
Hobbies/Collectibles: OSU Football, reading 
Favorite Snacks: Non-spicy Teriyaki Beef Jerky, mixed nuts 
Favorite Candy: Kit Kat Crisp Wafer Candy, Reece's Pieces Candy
Favorite Beverage: Coke, Water
Favorite Shopping: Walmart, Target, Amazon
Favorite Restaurants: Fiesta Mambo, Santa Fe, Chick-Fil-a
Hobbies/Collectibles: Hobby Lobby
Favorite Snacks: Flavor Blasted Goldfish, Popcorn
Favorite Candy: Sour Patch Kids
Favorite Beverage: Iced Coffee, Mountain Dew
Favorite Shopping: Target, Amazon
Favorite Restaurants: Panera, any sushi
Hobbies/Collectibles: Reading, Disney
Favorite Snacks: Blueberries 
Favorite Candy: Dark chocolate, Peanut M&Ms 
Favorite Beverage: Unsweetened iced tea and water
Favorite Shopping: Amazon, Target, Lulu Lemon
Favorite Restaurants: McAlister's, Charleston's 
Hobbies/Collectibles: Running, cycling
Favorite Snacks: Almonds 
Favorite Candy: Orbit Gum
Favorite Beverage: Starbucks, Unsweetened tea
Favorite Shopping: Target, Amazon
Favorite Restaurants: Any
Hobbies/Collectibles: Reading, coloring 
Favorite Snacks: Popcorn, Pringles
Favorite Candy: Reece Cups, Peanut M&Ms
Favorite Beverage: Water, sweet tea
Favorite Shopping: Target, Amazon
Favorite Restaurants: Chipotle, Texas Roadhouse
Hobbies/Collectibles: Playing with the kiddos, riding bikes, watching movies
Favorite Snacks: Caramel Corn, apples
Favorite Candy: Reese Cups, Milky Way
Favorite Beverage: Cherry Coke Zero, water
Favorite Shopping: Amazon, Target
Favorite Restaurants: Chueys, Tropical Treats
Hobbies/Collectibles: Music, biking, reading (Kindle)
Favorite Snacks: Ghardetto snack mix, dried fruit
Favorite Candy: Dove dark chocolate, chocolate covered coffee beans
Favorite Beverage: Hot chai tea latte, Black Cherry Juice
Favorite Shopping: Hobby Lobby, Amazon
Favorite Restaurants: Sushi House, Uncle Vinnies's Pizza
Hobbies/Collectibles: Gardening, Cricut, Puzzles, Essential Oils
Favorite Snacks: Garden Salsa Sun Chips, Goldfish
Favorite Candy: Kit Kat, Hershey's Dark Chocolate
Favorite Beverage: Water
Favorite Shopping: Target, Amazon
Favorite Restaurants: Chipotle, Texas Roadhouse
Hobbies/Collectibles: Reading, Photography,
Board Games
Favorite Snacks: Popcorn, Fresh fruit
Favorite Candy: Sour Patch Kids, Dark Chocolate
Favorite Beverage: Decaf Latte, Sparkling Water
Favorite Shopping: Target, Amazon
Favorite Restaurants: Door Dash, The Tropical (Thai)
Hobbies/Collectibles: Sewing, knitting, reading, baking
Favorite Snacks: Almonds, jalapeño potato chips
Favorite Candy: Dark chocolate, chocolate covered almonds
Favorite Beverage: Iced coffee, LaCroix
Favorite Shopping: Altard State, Target
Favorite Restaurants: Laurannae Baking Co., Chick-fil-A
Hobbies/Collectibles: Coffee mugs
Favorite Snacks: Granola, fruit 
Favorite Candy: Dove milk Chocolate almonds, Reese's 
Favorite Beverage: White mocha iced coffee, sparkling water 
Favorite Shopping: Amazon, Target 
Favorite Restaurants: Charleston's, Laurannae Bakery 
Hobbies/Collectibles: Coffee mugs 
Favorite Snacks: Jerky, mixed nuts
Favorite Candy: Extra gum, Snickers 
Favorite Beverage: Coke Zero
Favorite Shopping: Hobby Lobby, Maurice's
Favorite Restaurants: Tacos4Life
Hobbies/Collectibles: Crocheting, reading
Favorite Snacks: Skinny Pop popcorn, sugar free mints
Favorite Candy: Turtles, homemade cookies
Favorite Beverage: Peach/Mango flavored water packets, Starbucks
Favorite Shopping: Amazon, TJ Maxx
Favorite Restaurants: Smitty's, McAlister's
Hobbies/Collectibles: Scrapbooking, reading/journaling
Favorite Snacks: Quest Chips or Pure Protein Bars 
Favorite Candy: Zero Sugar Hershey's Dark Chocolate or Zero Sugar Reese's 
Favorite Beverage: Flavored water (ex: la croix)
Favorite Shopping: Amazon or Target
Favorite Restaurants: Red Rock Canyon Grill, Chick-fil-A
Hobbies/Collectibles: Collect holiday platters and seasonal towels
Favorite Snacks: Beef snacks
Favorite Candy: Almond Joy
Favorite Beverage: Coffee, tea
Favorite Shopping: Academy, Home Depot
Favorite Restaurants: Mexico Lindo, Chipotle
Hobbies/Collectibles: none listed
Favorite Snacks: Lay's Chips (any flavor)
Favorite Candy: none
Favorite Beverage: Water
Favorite Shopping: Amazon
Favorite Restaurants: Rib Crib
Hobbies/Collectibles: Anything basketball related
Favorite Snacks: Almonds
Favorite Candy: Reece's
Favorite Beverage: Sparking Water, Sweet Tea
Favorite Shopping: Amazon, Maurices
Favorite Restaurants: Tacos 4 Life, Texas Roadhouse
Hobbies/Collectibles: Sports, Travel
Favorite Snacks: Corn Popper popcorn, pretzels
Favorite Candy: Twix, Hershey's chocolate bar
Favorite Beverage: Water, Diet Dr. Pepper
Favorite Shopping: Target, Walmart
Favorite Restaurants: Tacos4Life, any Mexican
Hobbies/Collectibles: Sitting poolside
Favorite Snacks: Lara Bars, Kind Bars (gluten Allergy)
Favorite Candy: Dark chocolate
Favorite Beverage: Diet Cherry Limeade, Iced Vanilla Latte
Favorite Shopping: Target, Teachers pay Teachers
Favorite Restaurants: McCalisters Deli
Hobbies/Collectibles: Colored sharpies and ink pens, Mechanical pencils, Brightly colored Sticky Notes, Large Dry erase markers
Favorite Snacks: Cheez-it's, Cool Ranch Doritos 
Favorite Candy: Reese's cups, Laffy Taffy, Almond Joy
Favorite Beverage: Coke, Cherry Coke
Favorite Shopping: QT
Favorite Restaurants: Chick Fil A, Slim Chickens
Hobbies/Collectibles: Golf
Favorite Snacks: Sun Chips, Chocolate Almonds
Favorite Candy: Reece's
Favorite Beverage: Starbucks (White mocha)
Favorite Shopping: Marshall's
Favorite Restaurants: Cheesecake Factory
Hobbies/Collectibles: none listed
Favorite Snacks: Cajan Trail Mix
Favorite Candy: Lemonheads
Favorite Beverage: Ginger Ale, Water
Favorite Shopping: Ace Hardware, Lowe's
Favorite Restaurants: Texas Roadhouse
Hobbies/Collectibles: Firearm Practice
Favorite Snacks: Lara Bars, granola
Favorite Candy: Dark chocolate
Favorite Beverage: Water
Favorite Shopping: Target, Hobby Lobby
Favorite Restaurants: Carrabba's, Chuy's
Hobbies/Collectibles: Christmas ornaments
Favorite Snacks: Trail Mix, fruit
Favorite Candy: PayDay, Reese's
Favorite Beverage: Chai Latte, Mountain Dew
Favorite Shopping: Hobby Lobby, Amazon
Favorite Restaurants: Louie's, Canes
Hobbies/Collectibles: Doctor Who, gardening
Favorite Snacks: Takis Fuego, Chex Mix
Favorite Candy: Mike and Ike's, Skittles
Favorite Beverage: Ginger Ale, Root Beer
Favorite Shopping: Eddie Bauer
Favorite Restaurants: Wing Stop, Cheddars
Hobbies/Collectibles: Odd/Quirky Mugs
Favorite Snacks: Almonds, cherries
Favorite Candy: Chocolate, kettle popcorn
Favorite Beverage: Sweet Tea, Dr. Pepper
Favorite Shopping: Bass Pro Shop, Academy
Favorite Restaurants: Red Rock, Charleston's
Hobbies/Collectibles: Fishing
Favorite Snacks: Pretzels, cheese
Favorite Candy: none
Favorite Beverage: Unsweet tea, Diet Coke
Favorite Shopping: Reasors, Target
Favorite Restaurants: Wing Stop, Church's chicken
Hobbies/Collectibles: Walking, star gazing
Favorite Snacks: Cheez-its, granola bars
Favorite Candy: Twizzlers, Starburst 
Favorite Beverage: Iced tea, Diet Coke
Favorite Shopping: Gap, Loft
Favorite Restaurants: Fiesta Mambo, Sushi House
Hobbies/Collectibles: Books, book themed apparel, anything corgi related
Favorite Snacks: Fruit, crackers, and hummus
Favorite Candy: none listed
Favorite Beverage: Coffee, unsweetened tea
Favorite Shopping: Hobby Lobby, Target
Favorite Restaurants: Any Mexican, Olive Garden
Hobbies/Collectibles: Piano, reading
Favorite Snacks: Chips
Favorite Candy: Almond Joys, Almond Snickers
Favorite Beverage: Snapple
Favorite Shopping: Bass Pro
Favorite Restaurants: Cheddars, Olive Garden
Hobbies/Collectibles: Hunting, fishing, watches
Favorite Snacks: Sun Chips, Chex mix 
Favorite Candy: Ferrari Rocher, Snickers
Favorite Beverage: Cherry Coke, Coke
Favorite Shopping: Target, Uptown Cheapskate
Favorite Restaurants: Panera, Zoe's Kitchen
Hobbies/Collectibles: Things that are green
Favorite Snacks: Honey wheat pretzels, Cheetos
Favorite Candy: Snickers, Caramel M&M's
Favorite Beverage: Root Beer, Sprite
Favorite Shopping: Walmart, Target
Favorite Restaurants: Olive Garden, Fiesta Mambos
Hobbies/Collectibles: Reading, swimming
Favorite Snacks: Yogurt covered pretzels, fruit
Favorite Candy: none
Favorite Beverage: Unsweet tea, coffee
Favorite Shopping: Target, Amazon
Favorite Restaurants: Panera, Chili's 
Hobbies/Collectibles: Gardening, reading
Favorite Snacks: Popcorn and Goldfish
Favorite Candy: Hot Tamales and Kit-Kats
Favorite Beverage: Zen Water, Core Water
Favorite Shopping: Amazon, Bath and Body Works
Favorite Restaurants: McAlister's Deli, Texas Roadhouse
Hobbies/Collectibles: New Puppy, Reading Poolside
Favorite Snacks: Goldfish, Cheez-its 
Favorite Candy: M&M's, Kit Kat
Favorite Beverage: Coffee, water
Favorite Shopping: Walmart, Target
Favorite Restaurants: McAlister's, Tropical Smoothie
Hobbies/Collectibles: Candles, volleyball 
Favorite Snacks: Chex Mix Original, Wheat Thins (plain)
Favorite Candy: Sno-Caps, Hershey's w/Almonds
Favorite Beverage: Water, Squirt
Favorite Shopping: Cato's, Bath & Body Works
Favorite Restaurants: Chicken Salad Chick, McAlister's
Hobbies/Collectibles: Candles, essential oils
Favorite Snacks: Pringles
Favorite Candy: Sour gummies, chocolate almonds
Favorite Beverage: Dr. Pepper, Sweet Tea
Favorite Shopping: Hobby Lobby, Target
Favorite Restaurants: McAlister's, Abuelo's 
Hobbies/Collectibles: Arts, reading
Favorite Snacks: Almonds, RX Bars
Favorite Candy: none
Favorite Beverage: Hint Water, Starbucks
Favorite Shopping: Target
Favorite Restaurants: PF Changs, Pei Wei
Hobbies/Collectibles: none
Favorite Snacks: Mixed nuts
Favorite Candy: Hot Tamales
Favorite Beverage: Coke Zero
Favorite Shopping: Bass Pro
Favorite Restaurants: Chili's
Hobbies/Collectibles: Fishing
Favorite Snacks: Oatmeal raisin cookies, trail mix w/o peanuts
Favorite Candy: Dove chocolate, Almond Joy
Favorite Beverage: Coke-regular, chai tea latte
Favorite Shopping: Amazon, Dillard's 
Favorite Restaurants: Bonefish Grill, Panera
Hobbies/Collectibles: Anything Kenya, anything nature
Favorite Snacks: Popcorn, Bold Chex Mix
Favorite Candy: Baby Ruth, Butterfinger
Favorite Beverage: Unsweetened tea, coffee
Favorite Shopping: Hobby Lobby, Amazon
Favorite Restaurants: Fiesta Mambos, Olive Garden
Hobbies/Collectibles: Cricut, reading
Favorite Snacks: Mini PB Ritz crackers, Dot's homestyle pretzels
Favorite Candy: Twix, Nerds
Favorite Beverage: Sonic/QT unsweet ice tea, Gatorade (sugar free)
Favorite Shopping: Target, Amazon
Favorite Restaurants: Cheddars, Red Rock Canyon
Hobbies/Collectibles: Reading
Favorite Snacks: Mixed nuts
Favorite Candy: none
Favorite Beverage: Red Diamond, Gold Peak Sweet tea
Favorite Shopping: Dicks Sporting Goods
Favorite Restaurants: Charleston's, Panera
Hobbies/Collectibles: Running, reading
Favorite Snacks: Coconut chips, white choc. covered pretzels
Favorite Candy: Mike & Ike
Favorite Beverage: none
Favorite Shopping: Dicks Sporting Goods, Academy
Favorite Restaurants: Olive Garden, Hideaway
Hobbies/Collectibles: Golf
Favorite Snacks: Pecans, Raw almonds, Low salt chips
Favorite Candy: Milk chocolate covered almonds, Sour Patch Watermelons
Favorite Beverage: Coke Zero, Pepsi Zero
Favorite Shopping: Amazon, Best Buy
Favorite Restaurants: Chipotle, Hideaway
Hobbies/Collectibles: Cardinals baseball, tech gadgets, photography
Favorite Snacks: Skinny Pop Popcorn, Pistachios
Favorite Candy: Dove Dark Chocolate
Favorite Beverage: Unsweet Ice Tea, Coke Zero, Diet Pepsi
Favorite Shopping: Kohl's, Hobby Lobby
Favorite Restaurants: Zoe's Kitchen, Ted's Café
Hobbies/Collectibles: Baking, Antique Shopping, Mary Eng\lebreit Items
Favorite Snacks: Food
Favorite Candy: Sour Candy, Chocolate
Favorite Beverage: Water, Celsius Energy Drink
Favorite Shopping: Target, Academy
Favorite Restaurants: Any
Hobbies/Collectibles: Superman and Basketball
Favorite Snacks: Beef jerky, BBQ Chips, Funyons
Favorite Candy: Milk chocolate, gummies
Favorite Beverage: Pepsi, Coffee
Favorite Shopping: Academy, Marshall's, Ross, Nordstrom Rack, Old Navy
Favorite Restaurants: BBQ or Steak restaurants
Hobbies/Collectibles: Golf, Sports
Favorite Snacks: Doritos
Favorite Candy: Reisens
Favorite Beverage: Coke
Favorite Shopping: Maurices, Amazon
Favorite Restaurants: Tandoori Guys, Chick Fil A
Hobbies/Collectibles: Reading, Cooking, Baking, Canning
Favorite Snacks: Salty
Favorite Candy: Chocolate
Favorite Beverage: Tea, Water, Coffee
Favorite Shopping: Amazon
Favorite Restaurants: Mexican
Hobbies/Collectibles: Gardening, reading, cooking
Favorite Snacks: Almonds w/sea salt, white chocolate covered pretzels
Favorite Candy: Hersey Kisses, Payday
Favorite Beverage: White chocolate mocha coffee, tea
Favorite Shopping: Hobby Lobby, Walmart
Favorite Restaurants: Schlotzsky's, Panera
Hobbies/Collectibles: Photography, baking
Favorite Snacks: Caramel popcorn, cheese crackers
Favorite Candy: Chocolate covered almonds, Snickers
Favorite Beverage: Iced Coffee, unsweet tea
Favorite Shopping: Target, Hobby Lobby
Favorite Restaurants: Cheesecake Factory, Cheddars
Hobbies/Collectibles: Scrapbooking, ribbon, reading
Favorite Snacks: Popcorn, Chex Mix
Favorite Candy: Red Licorice, dark choc. w/almonds
Favorite Beverage: Coffee, unsweet tea
Favorite Shopping: Target, Nordstrom Rack
Favorite Restaurants: Los Cabos, Chickfila
Hobbies/Collectibles: Shopping
Favorite Snacks: Cheez-its, Gardetto's
Favorite Candy: Gummy Bears, M&M's
Favorite Beverage: Water
Favorite Shopping: Kohl's, Target
Favorite Restaurants: Charleston's, Cheddar's
Hobbies/Collectibles: Basketball, reading
Favorite Snacks: Flammin Cheetos
Favorite Candy: Snickers
Favorite Beverage: Pepsi, Coke
Favorite Shopping: JC Penney, Walmart
Favorite Restaurants: Cheesecake Factory
Hobbies/Collectibles: Reading
Favorite Snacks: none listed
Favorite Candy: Reese's Peanut Butter Cups
Favorite Beverage: Dr. Pepper
Favorite Shopping: Hobby Lobby, Walmart
Favorite Restaurants: Louie's
Hobbies/Collectibles: Knit, crochet, read
Favorite Snacks: Crunchy Cheetos
Favorite Candy: Reese's Cups, M&M's
Favorite Beverage: Sweet tea 
Favorite Shopping: Target, Bath & Body
Favorite Restaurants: Texas Roadhouse
Hobbies/Collectibles: Butterflies, angels
Favorite Snacks: Gardettos, chips lightly salted
Favorite Candy: Snickers
Favorite Beverage: Diet Dr. Pepper, tea
Favorite Shopping: Walmart, Ross, Marshalls
Favorite Restaurants: Santa Fe, Ron's Hamburgers
Hobbies/Collectibles: none listed